De elite had gedacht dat de gele vest beweging wel zou overwaaien maar niets is minder waar. Begonnen als een uitsluitend Franse verzetsbeweging is de beweging inmiddels uitgegroeid tot een wereldwijde. Zelfs in Taiwan gaan mensen met gele vestjes de straat op om de elite duidelijk te maken dat het klaar is. Duitsland, Bulgarije, Canada, Kroatië, Egypte, Finland, Irak, Ierland, Israël, Italië, Jordanië, Pakistan, Polen, Portugal, Rusland, Servië, Tunesië, Griekenland, Nederland, België, Engeland, Frankrijk en ja zelfs Taiwan, wij kunnen dus met een gerust hart stellen dat deze volksbeweging wereldwijd is en niet meer te stoppen.
Elite van deze wereld, maak jullie borst maar nat! Het volk is jullie zat!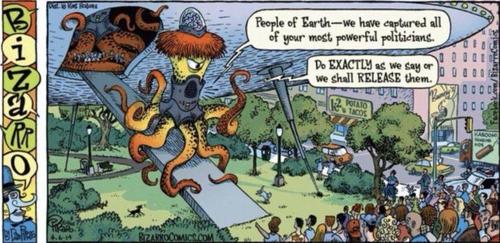 Ga je demonstreren, lees dit eerst!
Regelmatig zie ik jhournalisten van mainstream mediakanalen die op zoek gaan naar gewillige slachtoffers om belachelijk te maken, dit in opdracht van deze of gene. Zodra grote groepen mensen de straat op gaan om bepaalde eisen ingewilligd te krijgen staan ratten van mainstreamkanalen klaar om demonstranten belachelijk te maken. De tactiek die ze gebruiken is steeds dezelfde. Je kiest iemand uit die niet bepaald erg slim over komt en stelt hem of haar vragen waarvan je weet dat ze die niet fatsoenlijk kunnen beantwoorden. Zo wordt de hele groep te kakke gezet op basis van één of meerdere personen die zich niet goed kunnen uiten. Een andere tactiek is om geweldplegers ( die meestal in dienst zijn van de ordediensten ) zwaar uit te vergroten en alle demonstranten te vergelijken met alleen die bewuste groep geweldplegers. Zo kan de autoriteit makkelijker het geweldsmonopolie inzetten en de demonstratie uit elkaar slaan.
De laatste groep is erg moeilijk te ondervangen. Wat demonstranten kunnen doen als ze infiltratie van zo'n groep vermoeden is het vastleggen van het gedrag van deze groep en eventuele interactie met de aanwezige ordediensten. De eventueel geschoten beelden zouden zo snel mogelijk onder alle demonstranten verspreid moeten worden opdat de 'agent provocateurs' herkend kunnen worden door iedereen. Eenmaal thuis aangekomen zouden deze beelden breed verspreid moeten worden op het internet.
De eerste groep is een stuk makkelijker te ondervangen. Informeer iedereen van de basiswaarden en principes, bijvoorbeeld met het uitdelen van pamfletten waarop de eisen en regels duidelijk vermeld staan. Deel deze ook uit aan de ordetroepen! Als dit gedaan wordt zullen journalisten van bijna iedereen hetzelfde antwoord krijgen op dezelfde vragen waarmee de eenheid van de groep krachtiger en duidelijker naar voren komt en mensen thuis op de bank precies weten waarom mensen al wekenlang demonstreren. Ze doen het niet alleen voor hun zelf maar ook voor ons! Dat moet het idee zijn!
Globaal handvest Gele hesjes Beweging
Daarom hebben wij van Bovendien gemeend de basiswaarden en eisen vanuit een Engelse tekst te vertalen naar de Nederlandse taal zodat wereldwijd dezelfde waarden en eisen naar voren komen.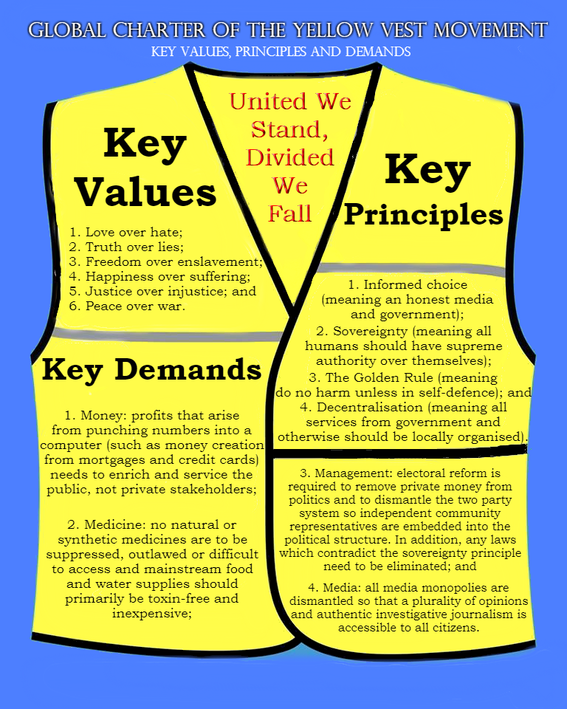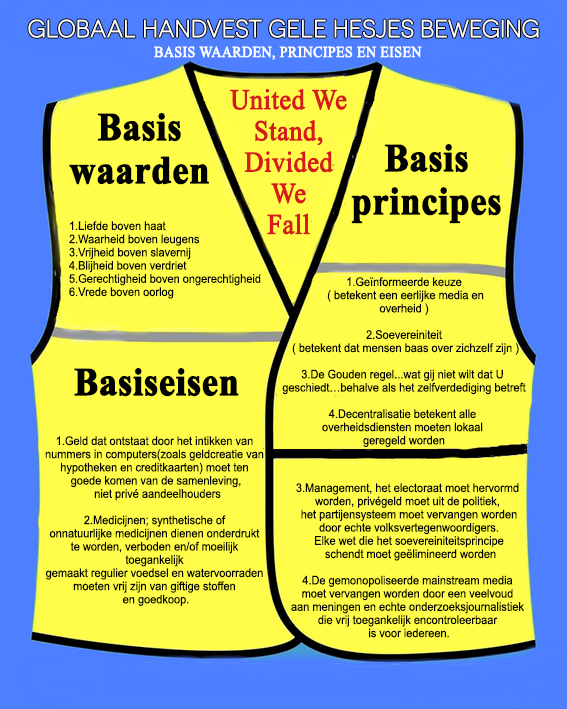 Deel deze informatie aub zo breed mogelijk via de gangbare mediakanalen, je doet er jezelf, je vrienden en familie en iedereen die een eerlijkere wereld wil een groot plezier mee.
Als laatste wil ik met iedereen dit interview delen dat ik een tijd geleden had met Robin de Ruiter. Als er één moment is dat dit interview actueel is dan is het nu!