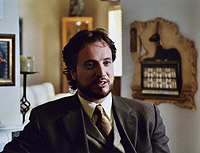 Giorgio A. Tsoukalos has often been described as the real-life Indiana Jones. As a trailblazer he is changing the way the world thinks about the Ancient Astronaut Theory.

As the world's leading Ancient Astronaut expert, Giorgio has appeared on The History Channel, the Travel Channel, the National Geographic Channel, the Sci-Fi Channel, Coast to Coast AM and many other international television and radio programs talking about the latest discoveries in the Ancient Astronaut field.

Giorgio A. Tsoukalos is the Publisher of Legendary Times Magazine, the world's only and definitive Ancient Astronaut Journal, and he is the Director of Research of the Center for Ancient Astronaut Research.

Come and explore the Mysteries of the World with leading ancient mysteries expert Giorgio A. Tsoukalos!

Don't Die Wondering! Crack the Code...
voor meer informatie: http://www.legendarytimes.com/giorgio/